Current Green City Studio Projects
Each year, the Master of Landscape Architecture candidates at California State Polytechnic University, Pomona, (Cal Poly Pomona University) partner with communities as part of the Green City Studio – the students' culminating experience for their degree.
In 2022-23, we are working with three different community partners on projects in Pomona, San Bernardino, and San Fernando, California. You can view past project reports on our publications page.
If you would like to learn more about the Master of Landscape Architecture Program, visit the department web site, or contact the faculty of the Green City Studio.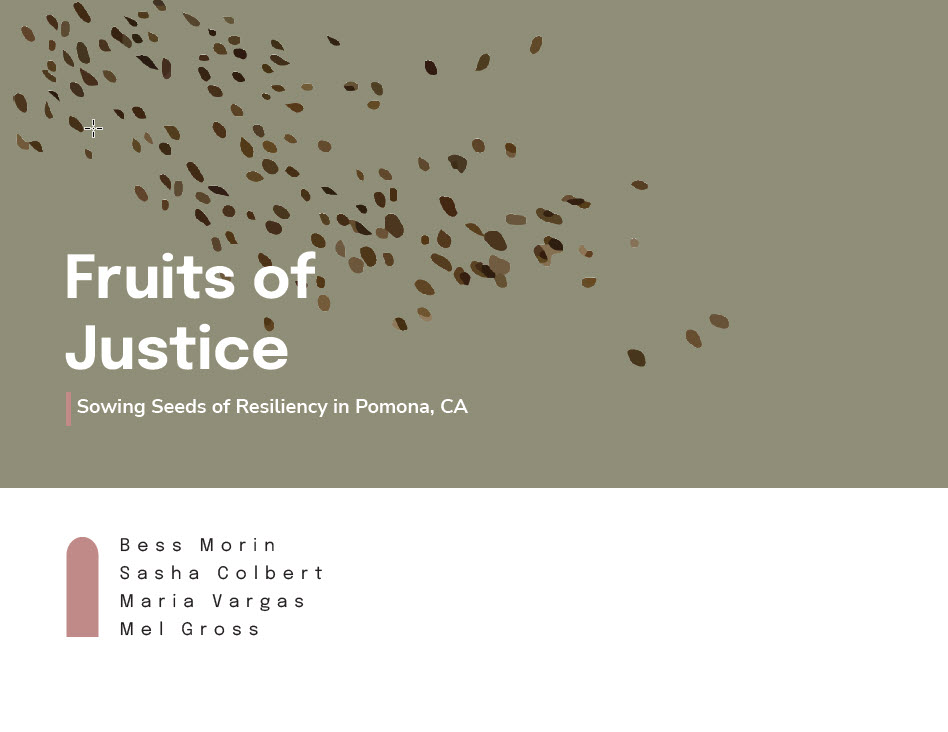 City of Pomona, CA
Bess Morin, Sasha Colbert, Maria Varga, Mel Gross
California Senate Bill 1000 requires cities to create a plan to combat the unequal distribution of environmental and social outcomes, described as the environmental justice element of a city's general plan. As part of their effort to comply with this requirement, we were tasked with proposing spatial and policy recommendations for Pomona, a city on the eastern edge of Los Angeles County. In recent years, it has emerged as a warehousing and distribution logistics hub, and the spatial distribution of these uses has contributed to uneven impacts of these developments. Within Pomona, the area we've identified as emblematic of these inequities, and chosen to focus on for this proposal, is a mixture of housing, commercial and industrial uses in the eastern portion of the city, referred to in this report as the East Corridors Focus Area.
By focusing upon a disproportionately burdened part of the city, we aim to encourage the equitable allocation of resources and develop solutions that may apply to the rest of the city. Spatial challenges we've identified include nearby industrial uses, significant traffic, a lack of active transit infrastructure, high housing burden, unemployment, and a disproportionate pollution burden. This contributes to unequal outcomes that concentrate linguistic isolation, lower educational attainment, and high rates of asthma and heart disease. These populations are the most vulnerable to the projected impacts of climate change.
Despite these challenges, we see many opportunities to build momentum. Recent initiatives to combat the challenges include a moratorium on new warehousing facilities, a ban on new waste and recycling processing facilities, and increased funding for parks and the arts through development fees. Other opportunities include rethinking underdeveloped infrastructure like streets and vacant parcels that can provide space for new parks, pedestrians, and active transit users. The most valuable assets are the people. The residents of Pomona represent diverse backgrounds, perspectives and skills which contribute to the resilience and momentum of the city.
The proposed design and policy recommendations envision an equitable Pomona where every resident has the opportunity for the highest possible quality of life. Where residents have the opportunity for meaningful involvement in decisions that affect them, and those historically marginalized are prioritized in policy-making and thoughtful investment. To address the unequal outcomes documented in our analysis, the plan includes efforts to identify and prioritize neighborhoods for investment based on equity. The proposed goals target mobility, economic health, community connection, public health and climate change resiliency.
Many of the interventions proposed in this plan center around transportation and public space improvements. Improved networks for alternative transportation shift the city away from car-centric infrastructure. Proposed interventions support emerging local economies, provide good local jobs, and affordable housing to strengthen residents' economic health. Public space improvements and community engagement strategies lead to strong community connections and encourage active involvement of residents. Public health outcomes are improved by supporting healthy lifestyles, enhancing social connections, and mitigating air pollution. Strategies are also provided to strengthen Pomona's resilience to the impacts of climate change.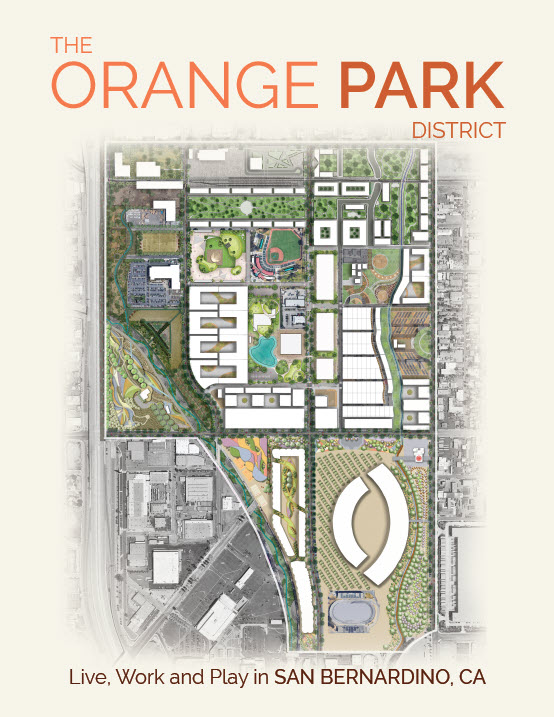 City of San Bernardino, CA
Graham Feltham, Jeanine Sharkey, Karla Valdiviezo, Michael Gallagher & Rania Theodosi.
This report examines the environmental, social, economic, and geological conditions of a 368-acre site south of downtown San Bernardino, California, and proposes the Orange Park District as a full service neighborhood to live, work, shop, and play. The city has proposed the site as a lively entertainment district to attract residents, people who work downtown and in the surrounding area, and visitors from the region who may attend sporting or entertainment events. In addition to data analysis and site visits, we spoke with community members to understand their needs and desires for development in this area at the city-sponsored winter festival, "Miracle on Court Street," in December 2022. This comprehensive research helped us to better grasp our existing site conditions and the needs of residents in order to guide our design solutions.
This site's location near the San Bernardino Mountains and Cajon and San Gorgonio Passes contributes to a challenging weather pattern characterized by strong Santa Ana winds. The resulting site conditions are hot and windy – traits that are exacerbated by minimal tree canopy.
Lytle Creek and two tributaries flow through the site, but they are channelized, limiting their ecological benefit. Much of the site is covered with impervious surface and the southern portion of the site is located within a 500-year floodplain.
The site is sparsely developed with single story utilitarian structures, an abundance of surface parking, and underutilized or vacant land. As a result, daily activity is limited. This absence of activity, along with the open and exposed conditions and the wide, automobile-oriented roadways, contribute to a perception that the area is unwelcoming and unsafe.
Despite these challenges, the site does have a number of important assets. Landmarks such as the baseball stadium, the National Orange Show, Loma Linda Medical Campus, and the Transit Center draw large numbers of people to the site. The underutilized parcels provide numerous development opportunities. The wide public rights-of-way provide the opportunity to introduce complete street systems that accommodate pedestrians, cyclists, transit, and automobiles. The creeks are severely degraded, but restorable, and the young population of San Bernardino presents an opportunity to introduce lively activities for all ages.
For this site to be able to attract and retain residents, we propose a comprehensive redesign. The concept focuses on restoring the health of the site to create attractive areas where people want to spend time. Design interventions include implementing green streets, revitalizing creeks, building affordable and market rate housing, and ultimately developing a sense of place and everlasting community. Future site improvements must be carefully curated to ensure long-term economic and environmental success while promoting equitable site use. The Orange Park District will be a welcoming, vibrant, and thriving neighborhood destination. Pedestrians, cyclists, transit riders, and residents will experience art, music, sport, and other forms of entertainment in a bustling district rich with parks, trees, and natural waterways. The mixed-use neighborhood will feature opportunities for all to live, work, shop, and play.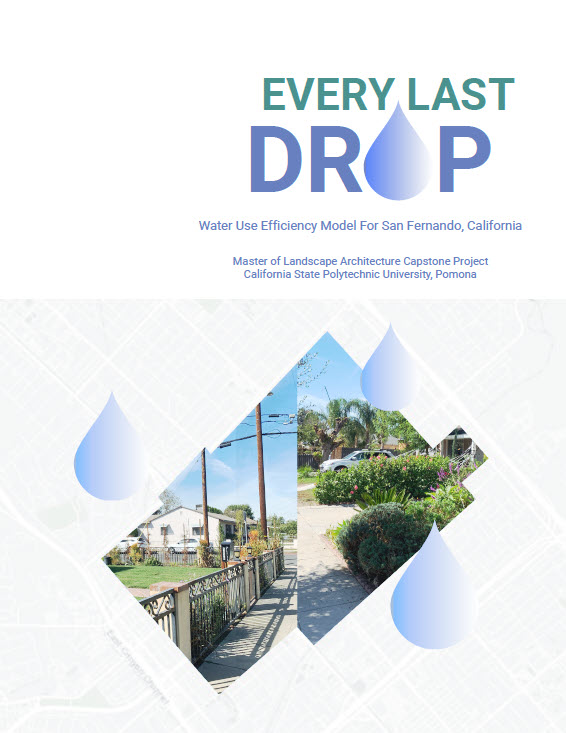 City of San Fernando, CA
Sahar Fazelvalipour, Jiyoon Kim, Atticus Lee, Chris Otte, Clarence Vong
Like many communities in Southern California, the City of San Fernando is challenged with diminishing water resources and increasing state regulation. "Every Last Drop" leads the community toward front yard landscapes that are drought tolerant and are in compliance with California's statewide Model Water Efficient Landscape Ordinance (MWELO). As students of landscape architecture, our knowledge concerning drought tolerant plants, low impact design, and culturally responsive design can assist the community with the permitting process as it relates to MWELO and move them toward low water use front yard landscapes that retain San Fernando's unique cultural identity.
Issues facing the City include challenges with yards that are out of compliance, drought and runoff concerns as well as socioeconomic challenges that make it difficult for many residents to implement low water use landscapes. High single-family home ownership rates, consistent lot sizes and conditions, and San Fernando's rich cultural heritage as a predominantly Latino community are some of the unique opportunities present. Existing rebate and grant programs are also available provide financial assistance to residents.
This project aims to position the City of San Fernando as a leader in low water use landscapes and climate change action by providing tools, designs, and educational resources that can serve as resources for the community. We achieve this by outlining goals such as managing residential stormwater runoff, educating residents on water use efficiency best practices, reducing residential water use, and enhancing the city's unique cultural identity.
The report provides an intuitive spreadsheet-based calculator for estimating water use and evaluating compliance, prototypical front yard designs that illustrate compliant designs and planting plans for a large percentage of the community, and swale designs for the parkways to reduce runoff by capturing and treating runoff from the street and from residential properties. San Fernando's Latino culture is incorporated into the design vision and goals to enhance the city's unique cultural identity while addressing low water use best practices and compliance with state guidelines.