Uniting Past, Present, and Future Along the Historic Backbone of Ontario, California
Michelle Shanahan | February 16, 2021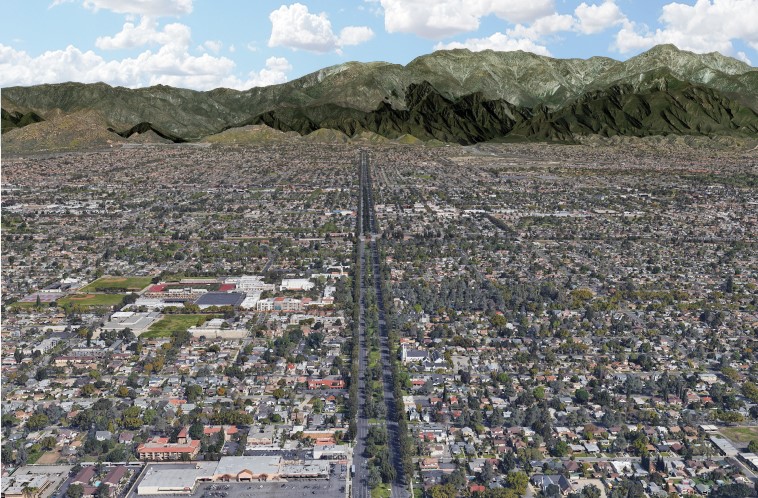 Just south of Mount San Antonio, known as Mount Baldy among many local Southern Californians, lies a long avenue that can easily be spotted through satellite imagery from over 100 miles away. This dark green strip of land that stands out among Southern California's busy network of thoroughfares, is Euclid Avenue. It was first designed in 1882 to be the "stately backbone" of Ontario, California. The city's founders, brothers George and William Chaffey, constructed the wide avenue to extend the length of the colony.
The gradual grade of Euclid Avenue allowed the brothers to install underground cement pipes that, with the help of gravity, delivered water from the mountainside to each parcel along the avenue. This engineering was extremely innovative at the time. A fountain was placed at the south end of the avenue to demonstrate the city's image as a "Model Irrigation Colony."
Above ground, Euclid Avenue was designed to include a 60 foot wide center median that included two rows of evergreen trees and tracks for a trolley car system. Initially, the trolley was pulled by mules to transport passengers up the avenue's incline from the downtown to the base of Mount San Antonio. To return downhill, the mules would board a platform on the car, and similar to the flow of irrigation water, gravity would propel the ride back down. These mules, Sanky and Moody, were viewed as such prominent figures in the early history of the city that they received obituaries in the Ontario Daily Report when they passed away. In 1895 the system transitioned to electric-powered trolley cars. However, due to the increasing popularity of automobiles, in 1928 the trolley service discontinued.
Then in 1931, the Avenue hosted its first All-States-Picnic where the community came together to celebrate the different states from which Ontario's residents had originated. This event illustrated how essential in-migration had been to Ontario's growth. It also symbolized the importance of nostalgia to the community whose city was named by the Chaffey brothers after their own native province in Canada. In 1948 the picnic was spotlighted in LIFE Magazine with an estimated 120,000 attendees. It featured a dining table arranged in the median, which at one point was named by Ripley's Believe it or Not as the world's longest picnic table at two miles long. Although many of today's residents come from all over the world, the All-States Picnic continues almost every fourth of July in tandem with the Ontario Independence Day Parade. Residents gather along the avenue each year to partake in the annual celebration.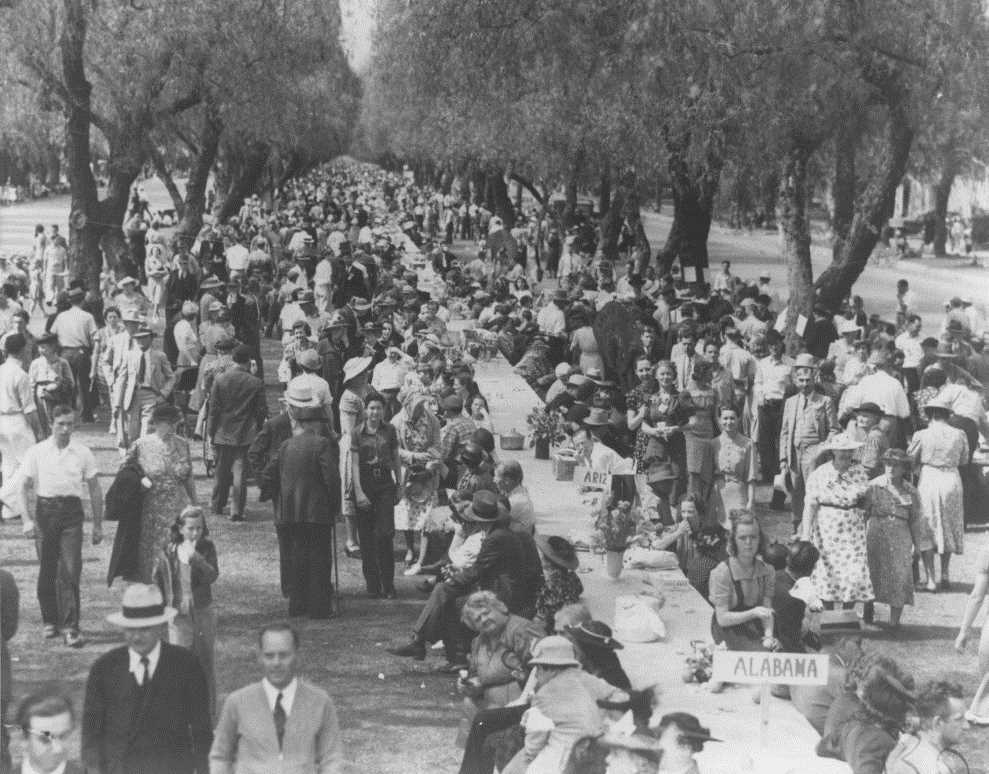 Over time, Ontario's demographics have shifted from a primarily white community, to a community of color. This shift was reflected this past year when the median was utilized for public protest of police violence against Black and Brown people following the murder of George Floyd at the hands of police in Minneapolis, MN. Residents stood on Euclid's median in solidarity with signs demanding social justice and change. Economic livelihood, transportation, nostalgia, patriotism, and social justice have all animated the "backbone" of Ontario, expressing community values over time.
Preserving Euclid Avenue's History
In honor of its grand design and early history, Euclid Avenue was placed on the National Register of Historic Places in 2005. The median is preserved as 60 feet wide, lined by the original cobble curb in several areas, planted with turf and roses, and is shaded by many of the trees planted by the Chaffey brothers. The only traces of the trolley system exist in a glass box that houses a replica of the mule car with a fake, life-size mule. Other monuments sprinkle the median in Ontario's Downtown area, including a drinking fountain donated to the city in 1908, along with replicas of the City's historic bandstand and Veteran's Memorial.
Preserving Euclid's history in this museum-like display fits into the "orthodox" approach to urban conservation, as described by cultural geographer, Ken Taylor. This method preserves fragments of a city's history as individual artifacts – as symbols of bygone eras designed to evoke yearning for a past remembered by some, and idealized by others. Yet, Euclid Avenue's story has been gradually written over time by different communities under different contexts, expressing different values. These layers of tangible and intangible history are not signified in displays of a few preserved artifacts.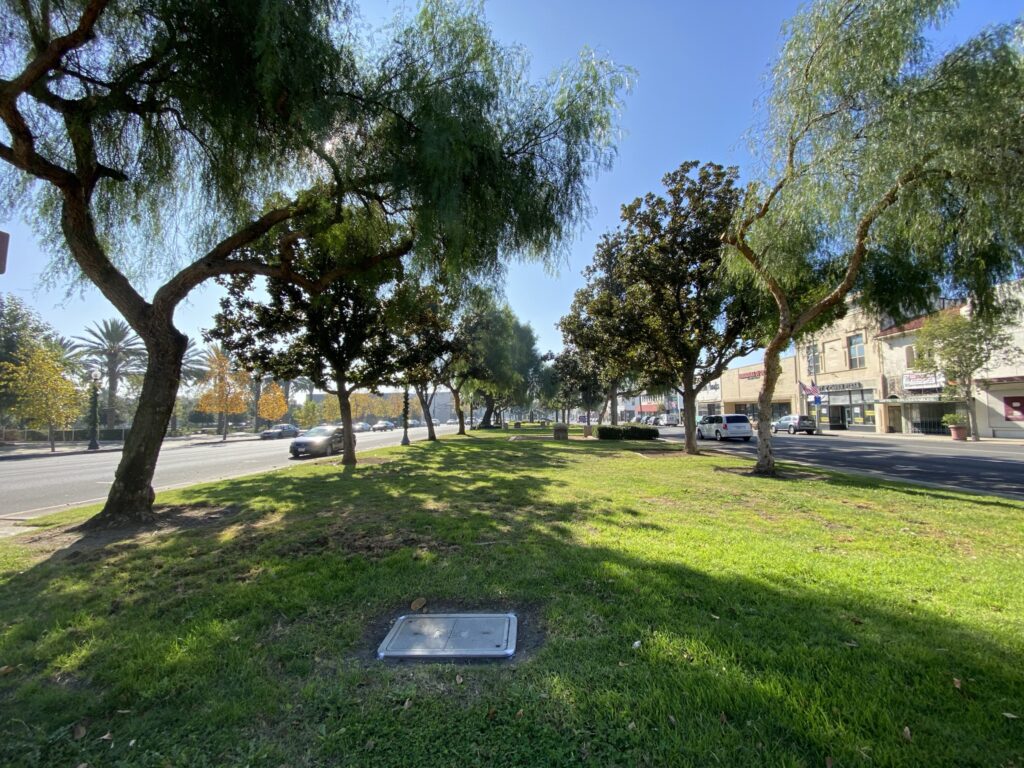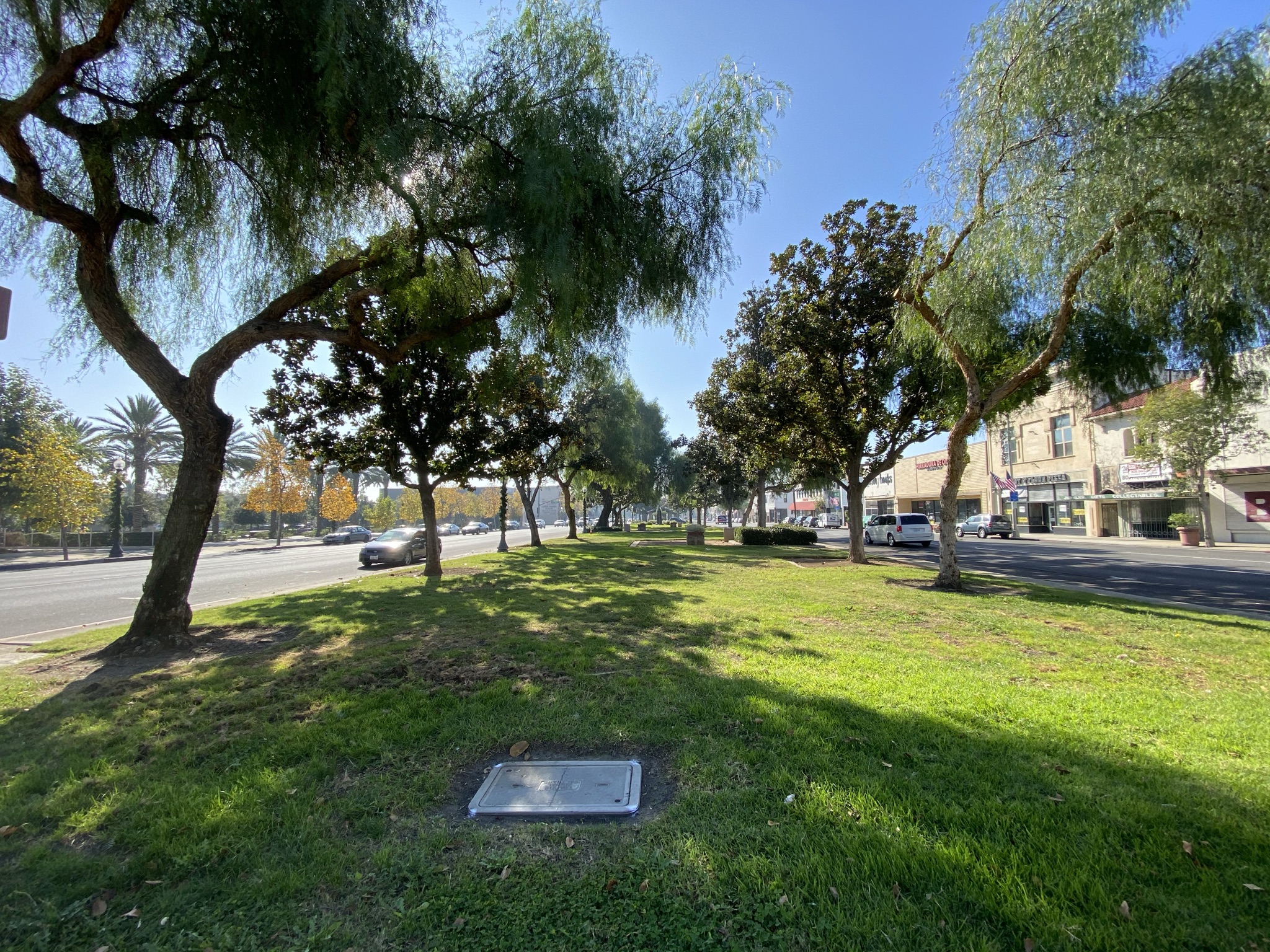 Driving Euclid Avenue today, you would have no idea that the wide center median once facilitated the primary form of transportation through the city or that it acted as a space for the community to come together and celebrate everyone's diverse origins. Its scarce amenities and six lanes of surrounding traffic, contribute to the median being underutilized and inaccessible. One might interpret its primary purpose as a "green" view for those passing by, contributing to the scenic quality of the community, and denying its multi-functional past as the center of community life.
This is particularly problematic when you consider that the Euclid median is designated as a city park. In fact, it is the only park serving a large portion of the community. While preserving urban heritage is important for city identity, the city's current and future needs must also be a priority. And according to Patricia O'Donnell, a preservation landscape architect and planner, well-designed public spaces, including revitalized heritage parks, can provide ample social, economic and environmental benefits to a city.
Preserving Euclid Avenue's History – Reimagined
The Historic Urban Landscape (HUL) approach to managing urban heritage resources was first recommended by the United Nations Educational, Scientific and Cultural Organization (UNESCO) in 2011. The recommendation responded to concerns that UNESCO members expressed regarding the impacts that modern development was having on historic areas. This approach is not about pitting historic preservation against new development, but about creating a synthesis between the old and the new resulting in a strong, diverse urban fabric. UNESCO's explanation of HUL urges that "the key to understanding and managing any historic urban environment is the recognition that the city is not a static monument or group of buildings, but subject to dynamic forces in the economic, social and cultural spheres that shaped it and keep shaping it." The emphasis is placed on conserving the values that have shaped the essence of the city rather than just preserving historic sites. When it comes to Euclid Avenue, Ontario's focus should shift away from simply maintaining its stately form to conserving the values that informed the use of that space over time.
Similar to Ontario, the city of Ballarat in Australia is rich in history with many historical sites. As it was facing the pressures of a growing population, a shifting economy, and a changing climate, the city recognized that the community values were much deeper than just the love of their heritage sites. In 2013, Ballarat signed up for an HUL pilot program and has used different tools to gain a deep understanding of diverse forces that define the city. These tools include interactive maps and photographs that layer environmental and cultural factors; photo montages of historic and present conditions; civic stories told through videos, images and writing; and ample opportunities for community members to continue sharing their stories and what they cherish about their city. Ballarat has committed to using these HUL strategies as "the guiding framework for managing change in the dynamic historic city", so that as the city evolves, each development project is in response to the community's needs and values.
The city of Ontario could utilize a similar HUL toolkit as Ballarat to re-evaluate and inform its historic preservation methods along Euclid Avenue to better express its value. The avenue's layers of history reveal that there are consecutive stories of movement and function that have shaped the city's narrative but are lost in the avenue's stately form preserved today. It is time for the community of Ontario to reimagine the future of their historic backbone.
---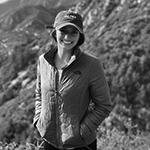 Michelle Shanahan is a Master of Landscape Architecture candidate at Cal Poly Pomona and is set to graduate in Spring 2021. Her work aims to incorporate both human and environmental health through design.