Tiny Home Communities for the Aging?
Brittney Seman | December 19, 2019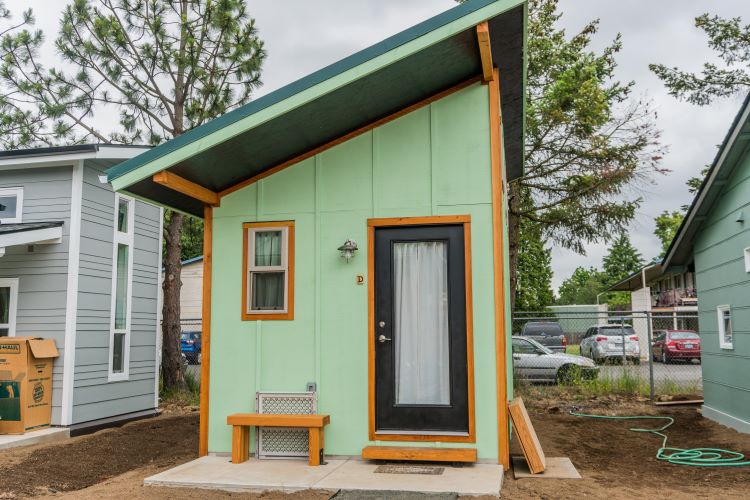 It is no surprise that the trend of minimizing and a sort of hygge lifestyle has carried its values over into housing trends. The popularity of tiny homes has grown and the term is now known in most everyday vernacular, particularly in individuals under the age of 40. Typically, tiny homes are designated as dwelling structures that have a footprint of between 65 and 400 square feet. Young adults seeking flexibility in their living space, with fewer material objects, and even fewer financial ties to a permanent living space, have been actively seeking this lifestyle modification. While this trend is popular among young adults, a recent study suggests it is even more popular with aging individuals nearing retirement
As with young adults, aging individuals often seek smaller homes, with less financial strain, and a stronger sense of community. With this budding trend of tiny homes and tiny home villages, it seems ideal for the bursting demographic of aging adults to invest in these tiny homes. People in their 60's or 70's often have a similar return to freedom to young people because they no longer have children depending on them. Additionally, after the 2008 market crash retirees are facing retirement with reduced savings. In some cases it may appeal to them to downsize their dwellings in order to save money and simplify their lives. This lifestyle is quite similar to the snowbird phenomenon in the United States, where people leave their primary residence for warmer climates during the winter in what is known as temporary migration. Tiny homes can fit well within this trend if they are built on trailers, as the entire home can be packed up and moved south for the winter.
Motivations for Tiny Homes
As population increases, the need for more food, goods and land to support housing and associated uses, follows suit. As our societal needs have shifted into one of over-consumption, intentionally downsizing presents more and more benefits. The prime motivational factors for interest in a tiny home are an interest in a simpler life, cost, sustainability, a sense of community, and an interest in design.
Among the many benefits of downsizing to a tiny home is the lower economic burden. While the true cost of a tiny home varies greatly, according to Carlyle, one could expect to pay anywhere from $20,000 to $100,00 for one of these smaller homes, which is significantly less than the average price of a new American home at $362,700.
Another motive for downsizing to a tiny home is to promote sustainability by decreasing one's environmental footprint. With these smaller homes, environmental impacts are far less apparent than those with traditional homes, and potentially those found in the more popular modular homes. The true beauty of the small house lifestyle is its ability to change mindsets and, particularly, to foster a more conscious relationship with the environment derived from the influence of a tiny space. In fostering a more conscious relationship with the environment, the model of a tiny home community typically allows for outdoor common areas that can provide gardening space for small-scale food production, horticultural therapy, areas for active engagement, or community gathering area. Especially with an eco-conscious owner, these communities are able to provide green space for individuals who might otherwise have less access.
The environmental benefits of this tiny home trend heightens the potential for these small dwellings to become a major influence on our societal views of housing. Linking both the economic and environmental benefits of these downsized homes is the pure lack of space, leading to lower energy use because there are fewer lights, less space to heat and cool, and fewer appliances than in an average American home. Modern innovations such as solar panels for energy and electricity, and composting toilets can help to make these small homes more environmentally conscious.
For aging adults needing assistance, tiny homes are just as viable as other housing options. Tiny homes are often tailored to the needs of their residents, which can benefit the older dweller. Increased options of designs could allow aging adults to age in place, while also potentially boasting sustainable features in order to increase quality of life. The potential for greener, more sustainable tiny home communities for retired individuals is a niche that has yet to be fully explored, but has great potential to reduce strains on the housing market and crisis, the senior care and assisted living market, and ecological functions.
With the potential for tiny homes to be customized to fit the individual dweller, these low cost homes can promote a more sustainable planned community for aging individuals. Companies such as Elder Cottages or MEDCottages have begun to capitalize on the potential of tiny homes specifically catered to the needs of aging individuals to allow them to age in place. These homes boast single-story living spaces that offer unique amenities such as non-lofted sleeping rooms, wider entryways, and ceiling tracks for a ceiling-mounted trapeze stabilization system. While these two companies offer these homes as temporary solutions mainly to be used as an Accessory Dwelling Unit in a family member's yard, these ideals of function and design could be utilized to create a larger-scale community intended for these aging individuals. Similar to traditional planned retirement communities, these intentionally built tiny communities can offer increased access to public and social services, such as on-site small-scale health services, increased access to public transportation, and increased opportunity for social engagement.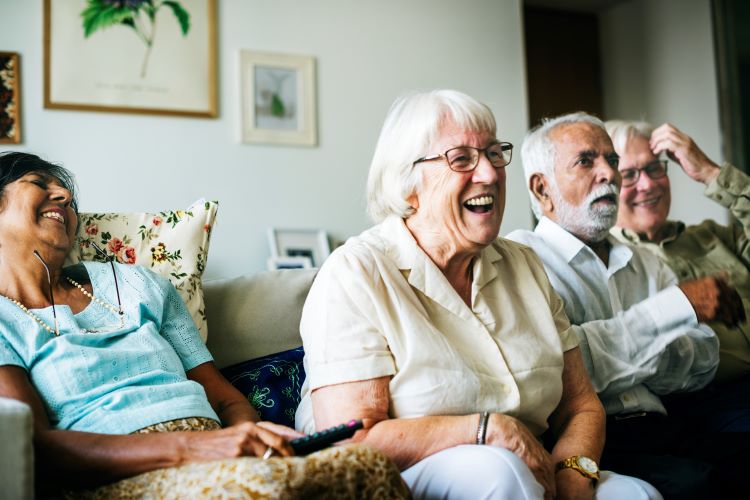 Why Not Tiny Home Retirement Communities?
When compared to traditional retirement living, including mobile home communities that are popular amongst retirement-age individuals, the increased environmental access allowed within tiny homes and tiny home communities serves as an almost therapeutic amenity, while also increasing the possibility of fostering community ties. In general, social interaction positively affects older adults' quality of life and life satisfaction. Neighborhood open space positively associates with life satisfaction, and social interaction may be one of several mechanisms explaining the relationship. Higher income individuals who can afford to purchase a single family home in a dedicated retirement community often have access to large open spaces, such a golf courses, parks, or walking trails. As such, lower income individuals are more likely to purchase manufactured mobile homes, particularly in the southern United States. These manufactured homes, however, tend to be constructed with materials such as manufactured plywood- which typically contains formaldehyde- and vinyl that have been shown to increase health risks and cause respiratory issues.
Many aging individuals will tend to want to stay in place, and as such the concept of having sustainable smaller homes within close proximity to one another allows these individuals to build relationships and engage in social activities. This may also allow them to maintain independence while reducing the stress and maintenance costs of other solutions such as mobile home parks, traditional retirement communities, single family residences, or assisted living communities. The environmental, economic, and physical and social benefits that tiny home communities can provide seem to make them a promising potential solution to housing an aging population.
---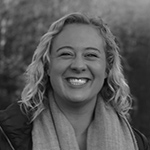 Brittney Seman is a graduate student in the Master of Landscape Architecture program at California State Polytechnic University, Pomona. She has a wide variety of interests from ecological and historic restoration to community regeneration and participatory design.